Free SculpSure Consultation!
SculpSure - Redefine your shape without surgery
Innovative technology to sculpt and define. SculpSure is the world's first FDA-cleared laser treatment for non-invasive lipolysis of the flanks, abdomen, back, inner and outer thighs.  Our device can now treat 5 different body areas.
It's a state-of-the-art, controlled light-based technology, ideal for patients looking to get rid of stubborn fat*. The 1060 nm wavelength's specifically targets adipose (fat) tissue, combined with minimal absorption in the dermis (skin), allowing SculpSure to efficiently treat areas of troublesome fat in just 25 minutes.
Flat, non-suction applicator design for consistent results

Treat multiple areas in 25 minutes

Simple and efficient attachment system

Hands-free device

Defined success: Up to 24% fat reduction per treatment1
Clinically proven in multisite trials in over 100 patients

---

1. Average reduction in fat volume following single treatment as measured by MRI; Clinical and Histological Evaluations of a 1060nm Laser Device for Non-Invasive Fat Reduction, John W. Decorato, M.D., FACS. Rafael Sierra, Ph.D., Bo Chen, Ph.D., Westford, MA, 2014.
SculpSure truly is a no-downtime procedure. With CoolSculpting you may have extensive bruising, swelling, redness or "shark bites" caused by the suction method. SculpSure patients are able resume daily activities immediately. SculpSure's technology is the future of body sculpting.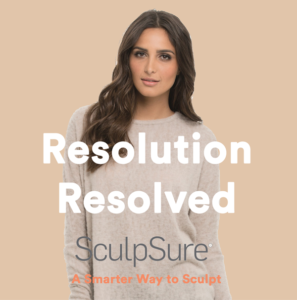 Join us for an Open House featuring SculpSure and all our Treatments! 2 sessions: Noon-1:30pm and 5:30-7pm. 
What to expect
During your first complimentary consultation we will discuss the areas that you feel interested in treating. We will discuss your goals and come up with a treatment plan to help you move towards those goals. We want you to understand how SculpSure works and make sure you feel comfortable with the treatment. You will have the opportunity to ask any questions regarding the treatment plan before making a decision. We welcome your questions!
Percentage of Fat Reduction Comparison of SculpSure and CoolSculpting 2
SculpSure has a higher average percentage of fat reduction than CoolSculpting, and way fewer negative side effects.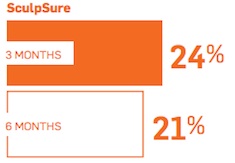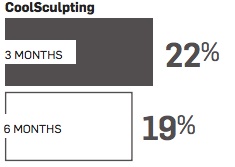 2 Decorato, JW, Chen, B, and Sierra, R (2017). Subcutaneous Adipose Tissue Response to a Non-Invasive Hyperthermic Treatment Using a 1060nm Laser. Lasers Surg. Med. doi: 10.1002/lsm.22625. Results will vary. Clinical studies show up to 24% of fat reduction when operating within recommended protocol parameters.
*Over time, the body naturally eliminates the disrupted fat cells with results seen quicker than you'd imagine!
*Disclaimer: Individual results may vary and are not guaranteed.
We were the first medical practice in the Rio Grande Valley and South Texas (including McAllen, Harlingen, Brownsville, and San Benito) to offer SculpSure. We brought SculpSure to our practice because we believe it is a safe, effective, and comfortable alternative to other lipo options.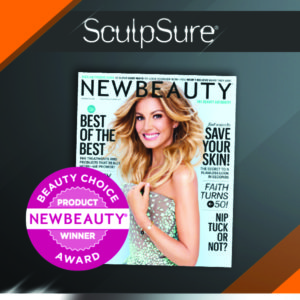 SculpSure received the "Beauty Game Changer" Award from NewBeauty Magazine in May 2017. The Beauty Choice Awards recognizes more than 100 of the industry's best products.
Look good and feel great from your head down to your toes with our med spa body beauty treatment options. Call Essential Medical Beauty Treatments at 956-350-0024 or use our online Request an Appointment Form. We offer our services to people in Brownsville, Harlingen, McAllen, San Benito, and Corpus Christi, TX.