Cellulite reduction with Endermologie/lipomassage
Endermologie, or lipomassage, is the latest technology for removing cellulite. It is a contemporary approach to moderate weight loss aimed at achieving a slimmer, smoother, more beautiful body. Endermologie has been approved by the United States FDA as cellulite treatment. Clinical studies have shown that from 14 to 28 Endermologie cellulite treatments can result in the temporary reduction of cellulite. Monthly maintenance treatments are necessary to maintain results.
What is cellulite

?
Cellulite appears when the fat cells in the skin expand due to poor circulation and excess fat accumulation. These expanded fat cells then exert pressure on the surrounding connective tissue. This breaks down the collagen fibers and creates a "dimple" on the skin surface. These dimples tend to multiply and create the appearance of cellulite. Because cellulite affects the connective tissues under the skin, it is highly resistant to exercise, diet and even liposuction. Endermologie, or lipomassage, offers these benefits:
Slims down fat cells
Use lipomassage to permanently eliminate stubborn fat that is resistant to physical exercise and dieting. After six sessions lasting 35 minutes each, you will see visible results on your figure, losing fat where you wanted it gone!
Smooths cellulite
Cellulite, a true nightmare for some, affects nearly 90% of women! And as if that weren't enough, cellulite areas remain totally unaffected by even the most strict diets and physical exercise.
Firms the skin
With weight changes, pregnancy or age, the skin gradually loses its firmness and  flexibility. Although sagging skin affects the entire body, some areas are more sensitive to it, including the inner thighs, the tummy and the arms.
Resculpts the figure
Slimming down is nice, but keeping curves and harmonious volume is even better! Affected areas are usually the hips, stomach and especially the buttocks (flat or uneven). Volume is often not symmetrical, and curves lack shape.
How does it work?
Our Cellu M6 Integral is the only tool able to provide a continuous mechanical manipulation of the skin and subcutaneous tissues, for therapeutic purposes, for beauty treatments, to fight signs of aging and to enhance athletic performance!
The Integral's small hand-held, motorized treatment head with specially designed rollers performs the Endermologie cellulite treatment. By gently lifting and rolling the skin, the Integral stimulates the venous and lymphatic systems, thereby eliminating toxins. Fibroblasts are stimulated to increase collagen and elastin production and generate a healthier, rejuvenated skin tone.
While wearing a body stocking, the motorized rollers are gently run over the full length of the body and then concentrated on the problem areas. The controlled suction gently lifts and rolls your skin, to deeply massage the affected areas, increasing the cutaneous blood flow and lymphatic flow by 300 to 400 percent. Toxins and abnormal fluid retention build-up is expelled as connective fibers are stretched and restored.
You will see results with each of your custom-designed cellulite treatment sessions. Sculpt your hidden curves, streamline your shape and reduce the appearance of cellulite. Before-and-after photos will document your progress.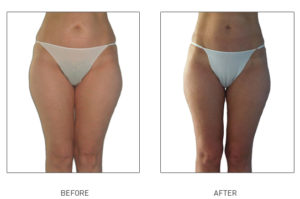 For state-of-the-art med spa cellulite treatments, come to Essential Medical Beauty Treatments. We are located in Brownsville, TX and also serve other Cameron County cities that include Harlingen, San Benito, Los Fresnos and Rancho Viejo. Call us at 956-350-0024 or use our online Request an Appointment form.
*Disclaimer: Results may vary from person to person.
Testimonials
*"Endermologie treatments helped me get rid of the stubborn flab on my tummy and butt, that would never go away even with exercise. I can finally wear my bikini and feel incredible about myself." ~ Marissa, actual patient
*"I've done an Endermologie treatment once a month for the last few years and I love it, I see how my skin keeps its elasticity. It's always a pleasure to get to a place where the staff is always smiling and in a good mood." ~ L.S., actual patient
*Disclaimer: Results may vary from person to person.